IMAGES OF THE PAZ SATELLITE
/ HISDESAT
PAZ
is a Spanish radar technology satellite designed to address not only security and defence requirements, but also others of civilian nature. It is capable of daily taking more than 100 images of up to 25 cm resolution, both day and night, and independently of weather conditions.
It cover an area of over 300,000 square kilometers a day, and orbit the Earth fifteen times a day at an altitude of 514 kilometers and a speed of seven kilometers per second. Thanks to its slightly inclined quasi-polar orbit, PAZ cover the entire Earth with an average revisit time of 24 hours.
The satellite's total weight is about 1400kg. It is 5 metres high and 2.4 metres in diameter.
Its radar has been designed to be extremely flexible and has the ability to operate in a large number of configurations, thus supporting a variety of image types and qualities. It has 256 GB of image memory and can transmit images to Earth at 300Mbits/second in X-band.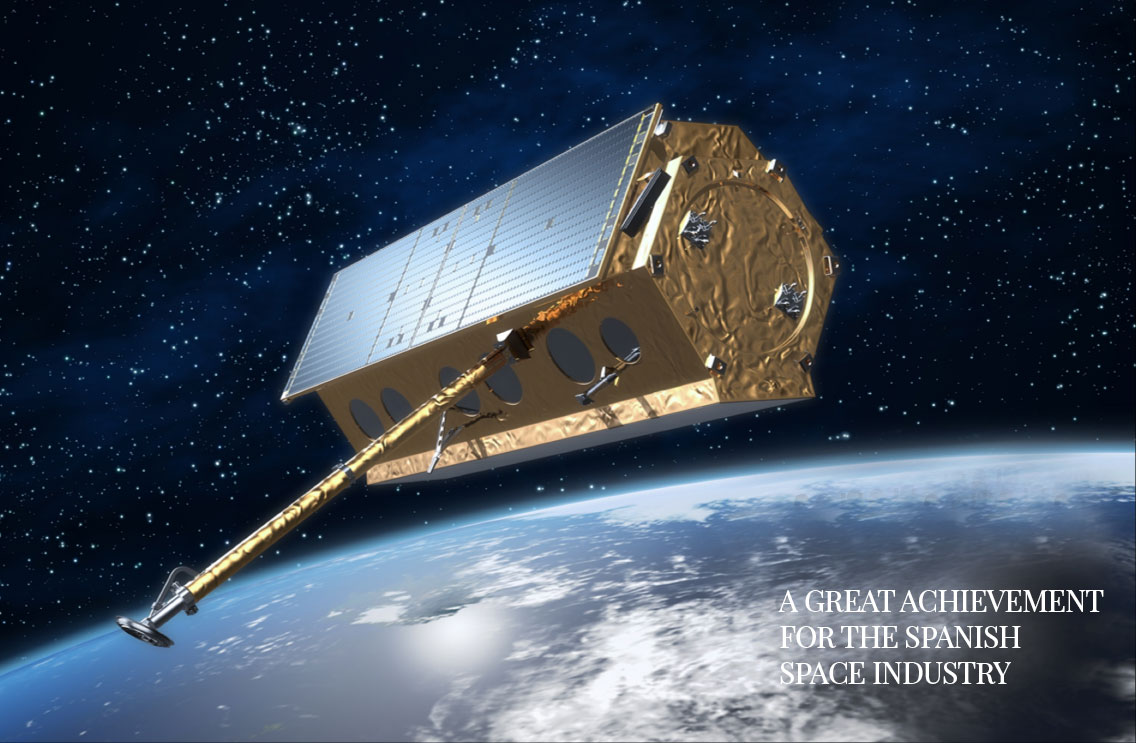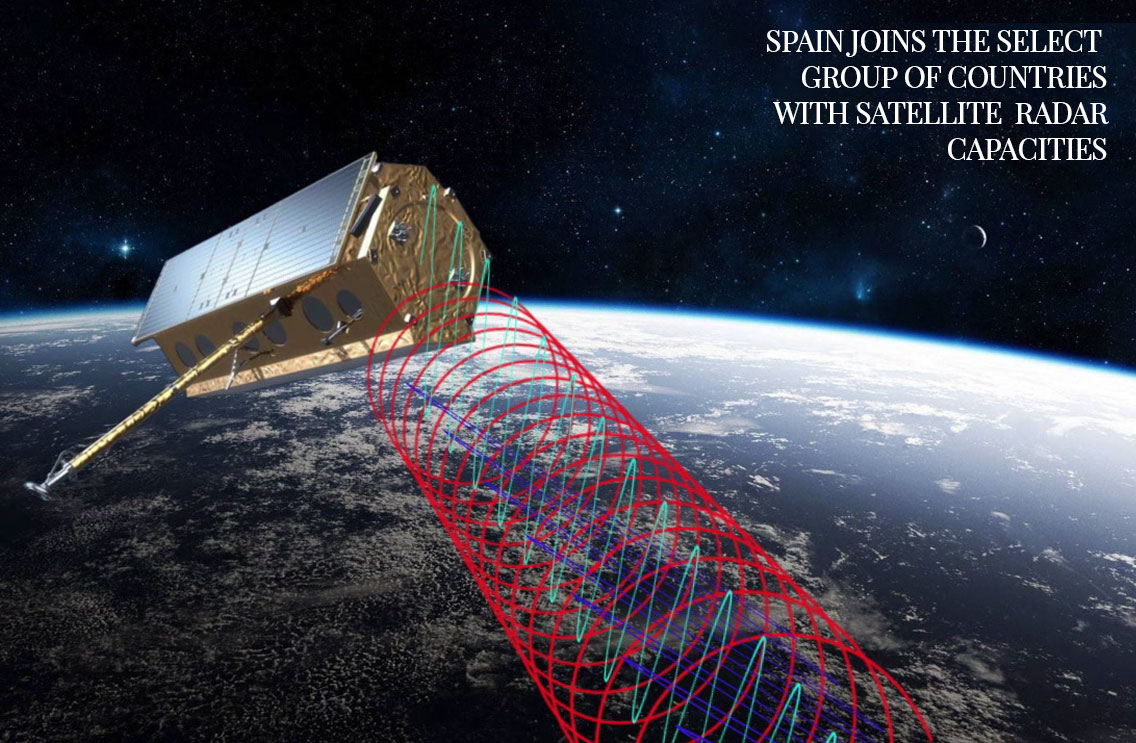 / HISDESAT
Applications
for PAZ
PAZ provides Earth Observation capabilities for multiple purposes: border control, intelligence, environmental monitoring, protection of natural resources, military operations, enforcement of international treaties, surface monitoring, city and infrastructure planning, monitoring of natural catastrophes and high-resolution mapping, among many others.
/ HISDESAT
Image
Resolution
PAZ satellite, operated by Hisdesat, is the first Spanish radar Earth Observation satellite, which is included within the National Earth Observation Programme.
PAZ was launched on 22nd February 2018 on-board of a Falcon 9 rocket from Vandenberg Air Force Base (California).
The satellite collects high-resolution radar imagery for applications in Defense and Civilian domains. The 1,400-kilogram satellite carries an X-Band Synthetic Aperture Radar (SAR) capable of delivering imagery with ground resolution up to 25 cm, capturing around 100 scenes per day under all-weather conditions.
PAZ satellite is positioned in the same orbit than TerraSAR-X and TanDEM-X satellites, from Airbus Defence & Space, in order to operate in constellation with them. This results in significant reduction of the revisit time and an increase in the daily acquisition capacity.

/ HISDESAT
TerraSAR-X/PAZ Radar Satellite Constellation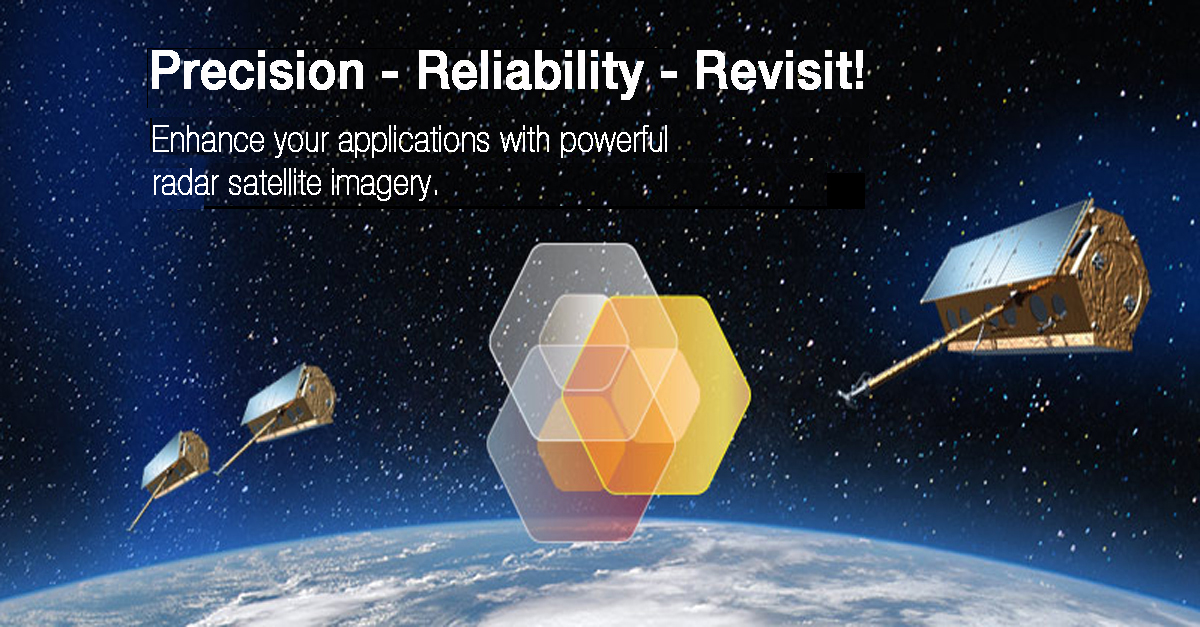 In 2012, Hisdesat signed an agreement with Airbus Defence and Space (formerly Astrium GEO Services) for the creation of a constellation of radar satellites that would use in a coordinated manner the resources that PAZ, TerraSAR-X and TanDEM-X make available to customers.
Among the advantages that this constellation offers are:
• The revisit time is significantly reduced to between 4 and 7 days, which is important for interferometric processes and applications with strict temporal requirements.
• Improved acquisition capacity for surveillance and map generation applications.
• Streamlining of the customer request process via a single request portal and using a single catalogue of services.
Numerous activities that require large quantities of timeous data, like crisis management or the monitoring of surface movements, will benefit from this new constellation.
Hisdesat has adapted the PAZ mission to incorporate the use of direct access stations (DAS) defined by the constellation. These kinds of stations, owned by clients, allow us to offer a very flexible service with Near Real Time characteristics.
/ HISDESAT
Principal
Contractor
The design and manufacture of PAZ was contracted out to Airbus Defence & Space Spain, which has created an unprecedented opportunity for the Spanish Space Industry, as it was the first time that the challenge of building a satellite of this size and complexity has been taken on in our country.
The project was a highly successful collaboration between a consortium of 15 Spanish companies and 3 universities, all involved in the manufacture of different parts and components.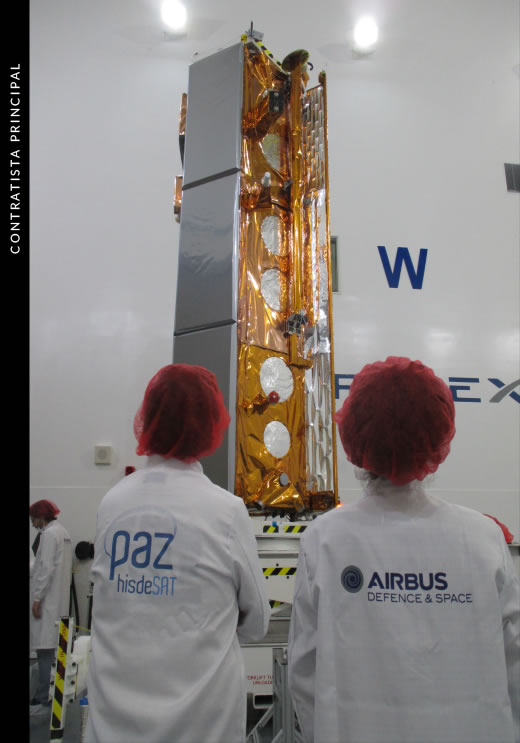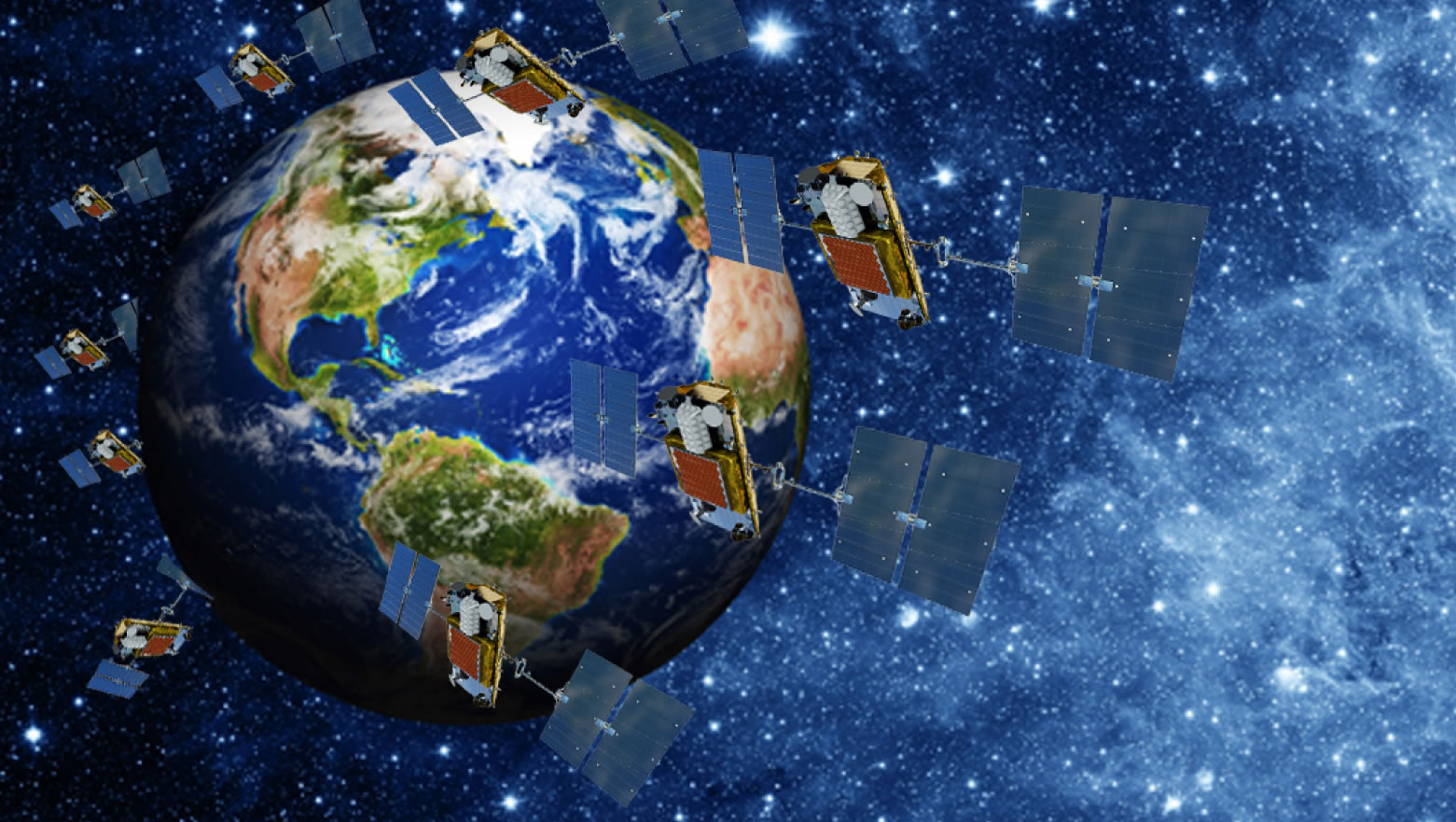 / HISDESAT
Secondary
Payload
The satellite-based maritime traffic information system is managed through the Canadian company exactEarth, which is the result of a joint venture between COMDEV and Hisdesat. The satellites in this new constellation receive AIS signals from the over 165,000 vessels that are equipped with this system. The data are then relayed to ground stations, where the information is collated and prepared in accordance with the requirements of the system's various users, providing an accurate picture of the world's maritime traffic in real time. The relevant processors have been developed in collaboration with the Department of Signal Theory and Communications at the Higher Polytechnic School of the University of Alcalá de Henares.
Also in the field of maritime surveillance, Hisdesat has developed, in collaboration with INDRA, an anomaly detection processor based on AIS technology that allows surveillance of any incident in an area of defined interest during a set time, such as surveillance of an area to provide information about the presence of ships, interception of a vessel in a defined nearby area, ships adrift at sea or showing anomalous speeds, groupings of vessels, ships entering and exiting ports, etc.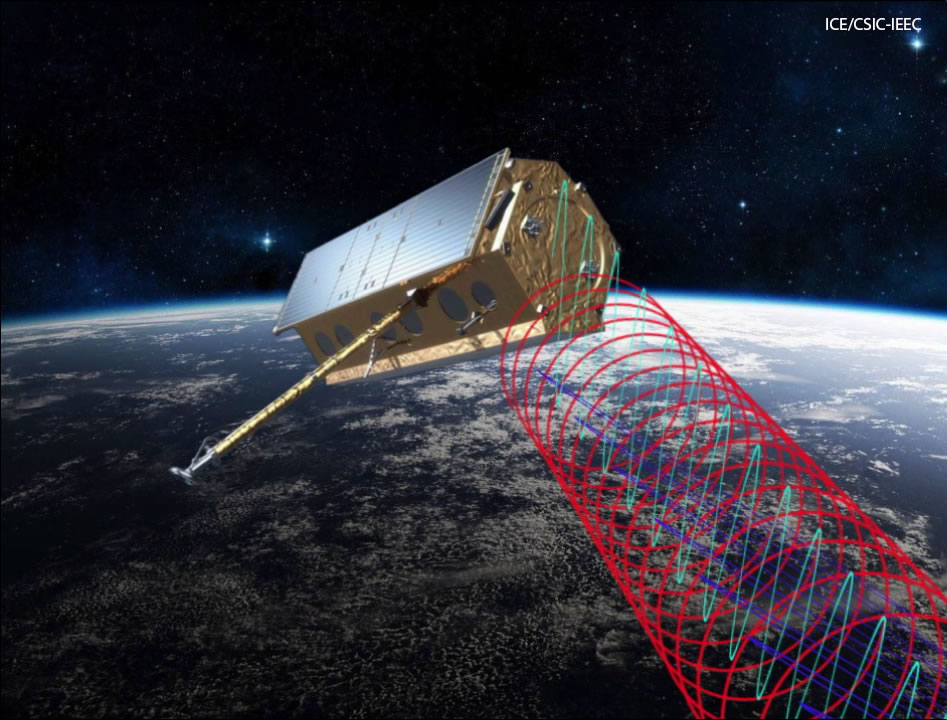 / HISDESAT
Radio Occultation Experiment
Atmospheric data from the Spanish PAZ satellite reaches meteorological services worldwide in "near real-time" via the World Meteorological Organisation (WMO), a specialised agency of the United Nations.
PAZ offers well-distributed information on the vertical structure of the atmosphere around the world, with information on temperature, pressure and atmospheric humidity, allowing for more accurate predictions. Worldwide distribution is possible thanks to the agreement between NOAA, the Institute of Space Sciences and the Institute of Space Studies of Catalonia (ICE-CSIC, IEEC), and Hisdesat.
This is the first Spanish satellite data to be distributed to meteorological services around the world continuously and in near real-time. The atmospheric measurements obtained by PAZ are derived from observations made with a GPS receiver on board, using a technique called "radio occultation". This data is temporarily stored in the on board computer until the satellite passes near a National Oceanic and Atmospheric Administration (NOAA) receiving station in Alaska. From that station, the raw data is sent to the University Corporation for Atmospheric Research (UCAR), where it is processed, controlled and sent back to NOAA for final transmission to the global weather services communication system. This entire process takes less than three hours from its acquisition on orbit.
Explanatory videos of the scientific experiment:

/ HISDESAT
Copernicus
This new satellite also make it possible to substantially improve the positioning of Spain within Copernicus, the European programme for global environmental and security surveillance, the main initiative in the field of Earth observation led by the European Union and the European Space Agency (ESA).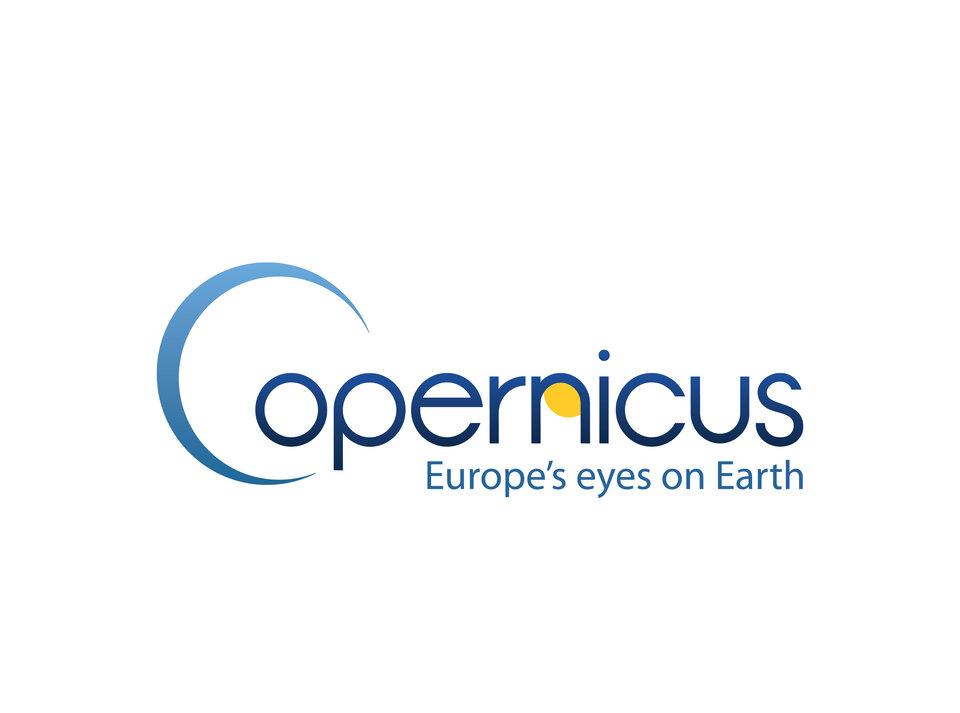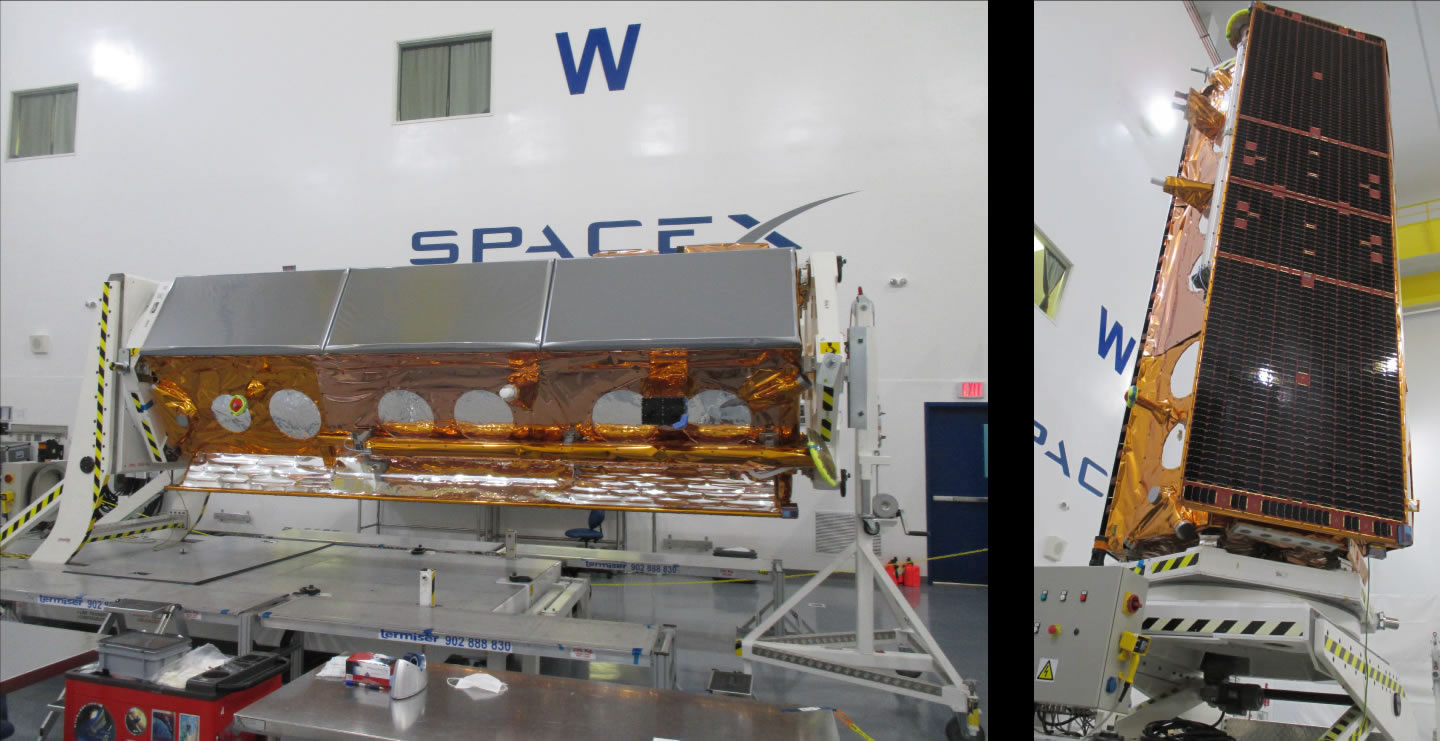 / HISDESAT
Rocket and
Launch
PAZ is launched on the 22nd of February 2018 from the Vandenberg Air Base in California, using the SpaceX Falcon 9 rocket.
The geographical location of the Vandenberg launch site provides access to polar and high inclination orbits, and is frequently used by constellations of communications, Earth Observation and defence/intelligence satellites, as well as some lunar missions. Launching here means being able to benefit from infrastructure including highly advanced security and control capabilities, weather conditions monitoring, ground support, and effective tracking cameras for the observation of launches from take-off to the separation and ignition phases over the Pacific.
/ HISDESAT
Transport to California
Relocation of the satellite was carried out on a specially adapted Antonov AN-124-100 owned by Volga Dnepr Airlines, which departed from the Torrejón Air Base near Madrid on 28 December 2017, arriving in California on 29 December.
A team of Hisdesat engineers was stationed at the Space X facilities to perform the last pre-launch tests.