exactEarth and the Marine Exchange of Alaska Announce Alaska Vessel Tracking Alliance
26/06/2013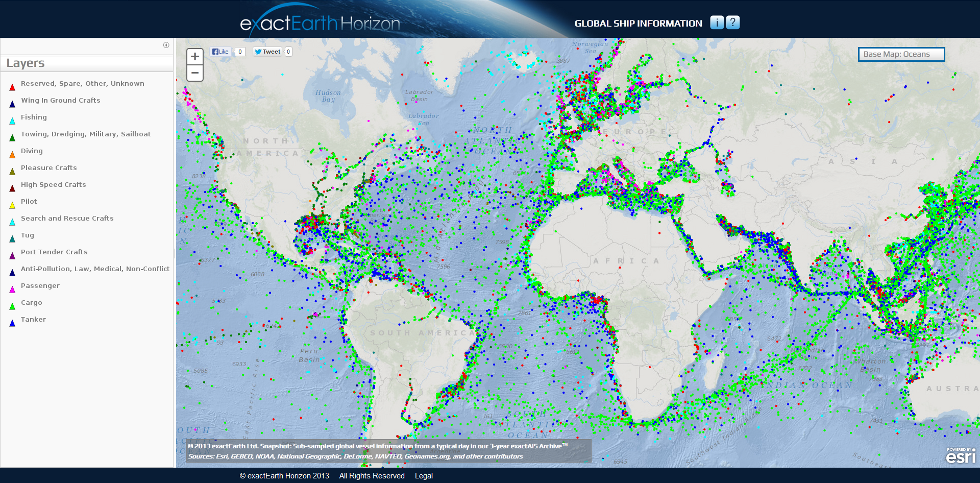 exactEarth and the Marine Exchange of Alaska Announce Alaska Vessel Tracking Alliance
exactEarth and the Marine Exchange of Alaska Announce Alaska Vessel Tracking Alliance
26/06/2013
Cambridge, Ontario (Canada), June 26th, 2013– The Spanish government services satellite company, Hisdesat, informs that exactEarth, its joint-venture with COMDEV has teamed up with the Marine Exchange of Alaska (MXAK) to form the Alaska vessel tracking alliance which is built on the MXAK PacTracs product offering. PacTracs is a vessel tracking display system that utilizes the MXAK's 100 coastal Automatic Identification System (AIS) receivers throughout Alaska. With this new agreement, users are now able to upgrade their PacTracs service to include the exactAIS® satellite feed from exactEarth. This upgrade will expand coverage from the coastal waters around Alaska to include the entire North Pacific and the Arctic. Coverage will now extend from 45 degrees north latitude all the way to the North Pole.
Vessel tracking is the cornerstone of MXAK's services. This new hybrid AIS and satellite tracking system will address all aspects of the organization's mission of providing services that aid safe, secure, efficient and environmentally responsible maritime operations.
"The Marine Exchange of Alaska provides the Alaska maritime community with many valuable services, which now will include exactEarth's satellite coverage of vessel movements on the open ocean. We are excited to support the PacTracs vessel tracking application for the Alaska maritime community. We expect there to be increasing interest in both North Pacific and Arctic vessel tracking, and are proud to be allied with the Marine Exchange of Alaska to provide this important service," said Mr. Chandler Smith of exactEarth-USA.
Captain Ed Page, a retired Coast Guard officer who prior to starting up MXAK served as the Coast Guard's Chief of Marine Safety, Security and Environmental Protection for the Pacific reached out to exactEarth to provide a more complete picture of maritime traffic. Captain Page noted "Together we are providing 'over the horizon' strategic and real time information on the locations of vessels. I'm confident we'll quickly have an impressive portfolio of maritime accidents averted, lives saved and efficiencies realized through teaming up our capabilities."

About exactEarth
exactEarth, based in Cambridge, Ontario, is a data services company providing the most advanced information on global maritime traffic available today. Our premium service, exactAIS®, delivers an unrivalled view of the recognized maritime picture at a global scale. Offering fully secure data in a variety of industry standard formats and delivery methods, exactEarth's data provides real value for a wide range of operational maritime applications delivering operational efficiencies, enhancing security, safeguarding the environment, and assisting in saving lives. exactEarth is jointly owned by COM DEV International Ltd (TSX: CDV) and HISDESAT Servicios Estratégicos S.A. For more information, visit our website at www.exactearth.com.
About the Marine Exchange of Alaska
The Marine Exchange of Alaska (MXAK) was established in 2000 to bring the far flung Alaska maritime community together with the common goal of providing information, communications and services that aid safe, secure, efficient and environmentally responsible maritime operations. MXAK is applying 21st Century technologies of satellite and Automatic Identification Systems (AIS) to provide valuable safety, navigational and logistics information to the maritime community and to provide a virtual "Safety Net" that also contributes daily to the efficiency of maritime operations.
About Hisdesat
Hisdesat was founded in 2001 as operator of government services by satellite to act primarily in the areas of defense, security, intelligence and foreign affairs. Since 2005, the company provides secure satellite communications to government agencies of different countries and is currently developing new satellites in two areas: Earth Observation and Information of the worldwide maritime traffic by satellite (AIS). More information: www.hisdesat.es
For further information: Nicole Karns
Marketing Communications
519-620-5890
nicole.karns@exactearth.com

For further information:

Hisdesat

Araceli Serrano

PR Communications Manager

Tel: +34 91 4490149