Successfully conclusion of the PAz satellite integration
17/09/2013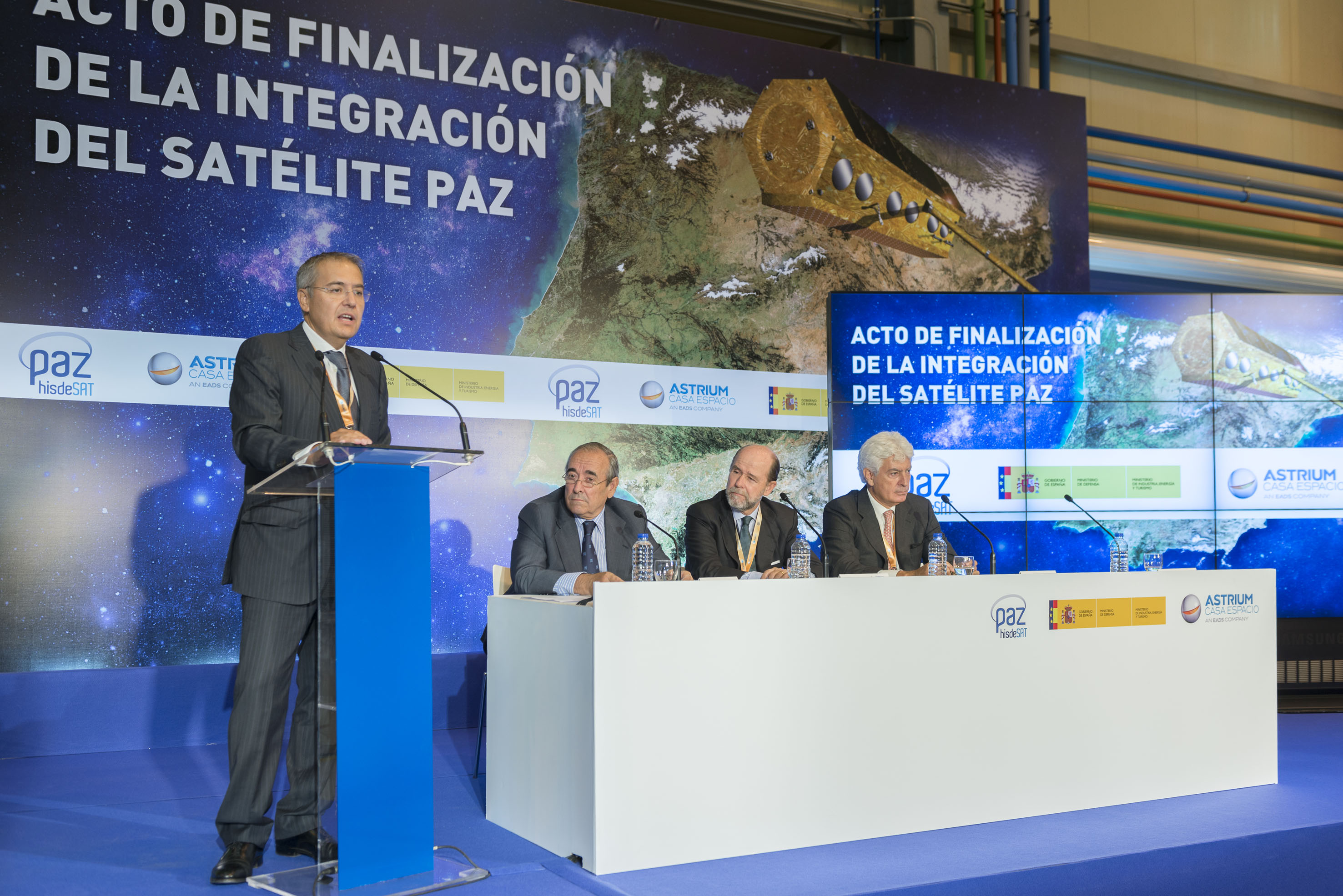 Successfully conclusion of the PAz satellite integration
Successfully conclusion of the PAz satellite integration
17/09/2013
– 18 Spanish companies involved in its construction, meeting the deadlines set for launch in 2014.
– Its applications, from civil and military, including security and defense, environmental monitoring and assessment of natural disasters.
Madrid (Spain), September 17, 2013 – The Spanish satellite government services company, Hisdesat, and EADS CASA Espacio, announced the completion of the production, integration and functional tests in Madrid of the PAZ satellite, which has had an important role Spanish aerospace industry, involving 18 companies that have contributed to its components. PAZ is a project of the Spanish Ministries of Defence and Industry, Energy and Tourism, which was created with the aim of providing autonomy to Spain to ensure its sovereignty in terms of satellite imaging for many applications.
"The commitment to R & D Spanish and public-private partnership between the Central Government and Hisdesat are making a success of the PAZ Programme for the development of our country. PAZ generates images which produces countless benefits in the areas of security and defense, environmental monitoring, assessment of natural disasters , as well as large business opportunities abroad", said Miguel Angel Panduro, CEO of Hisdesat .
Antonio Cuadrado, Head of EADS CASA Espacio and head of Astrium in Spain, said:"The creation of skilled jobs over the years is one of the first and most important benefits of PAZ satellite. The successful integration of the satellite demonstrates the ability of our country to lead large spatial systems.Thus, the industry places Spain as one of the 5 countries with the competition in the European space scenario".

The PAZ satellite is part together with Ingenio (currently under development) of the National Earth Observation Program (PNOT). It two space observation technologies, radar and optical, provide images day and night and in all weather conditions. With this national program, Spain became the first European country to have a dual system of observation for dual-use civilian and military.
Hisdesat is the owner, operator and operator of PAZ satellite, which will provide accurate information to multiple applications from its polar orbit around Earth. The launch of the satellite, scheduled for 2014, has been entrusted to Russian Dnepr launcher. Hisdesat is the company responsible for the launching and commercial exploitation of both satellites, in collaboration with INTA, which will provide the ground segment.
EADS CASA Espacio, as PAZ satellite prime contractor, leads a large consortium of 18 companies in the space sector , carrying out the integration of the satellite in its facilities in Madrid. Furthermore, Astrium is developing the front part of the radar whose antenna is one of the most important and innovative technology and based on printed circuits and multi-layer arrangement radiators. Since its inception, the Paz satellite manufacturing has resulted in the Spanish space industry returns on investments, allowing to develop new capabilities that improve their competitiveness in the global market space.
PAZ is intended to meet the needs of the civilian users as well as security and defense ones, it can take more than 100 daily images of up to one meter resolution. Thanks to the automatic identification system that will carry AIS can detect the position of any ship in the world. It will also allow to carry out "more simple and effective" surveillance tasks border control, international treaty verification , monitoring and assessment of natural disasters or environmental monitoring.
In addition, the satellite PAZ will share the same orbit with TerraSAR-X and Tandem-X, the ASTRIUM satellites and will be operated as a real constellation, providing its customers a wide range of benefits, including: reduced revisit time, improved procurement capacity, features and image acquisition modes identical (including new Staring SpotLight and specific ScanSAR Wide IMINT and maritime monitoring applications), ease of application and access services.
INTA will be responsible for property and management and the PAZ ground segment, which includes control and monitoring stations, which will be located in Torrejón (Madrid) and Maspalomas (Gran Canaria), both in Spain, and centers of processing and storage of data, located at the above locations and Torrejón Air Base (CESAEROB).
About Hisdesat
Hisdesat was founded in 2001 as operator of government services by satellite to act primarily in the areas of defense, security, intelligence and foreign affairs. Since 2005, the company provides secure satellite communications to government agencies of different countries and is currently developing new satellites in two areas: Earth Observation and Information of the worldwide maritime traffic by satellite (AIS). More information: www.hisdesat.es
For further information:

Hisdesat

Araceli Serrano

PR Communications Manager

Tel: +34 91 4490149